Halloween, popularly known as the spookiest time of the year is celebrated on October 31. People usually dress up as ghosts and walk around the neighbourhood to observe the 'trick and treat' tradition. Even children dress up in the scariest of outfits and and collect sweets from the neighbours. The tradition dates back to the Celts, when rich people would give food to the poor, in return of their promise to pray for them.
Today, things have changed considerably with people hanging out together to celebrate the spirit of the festival with Halloween theme decorations, food and drinks.  If you need cocktail inspiration for your party then here are five easy recipes.
The Witch's Heart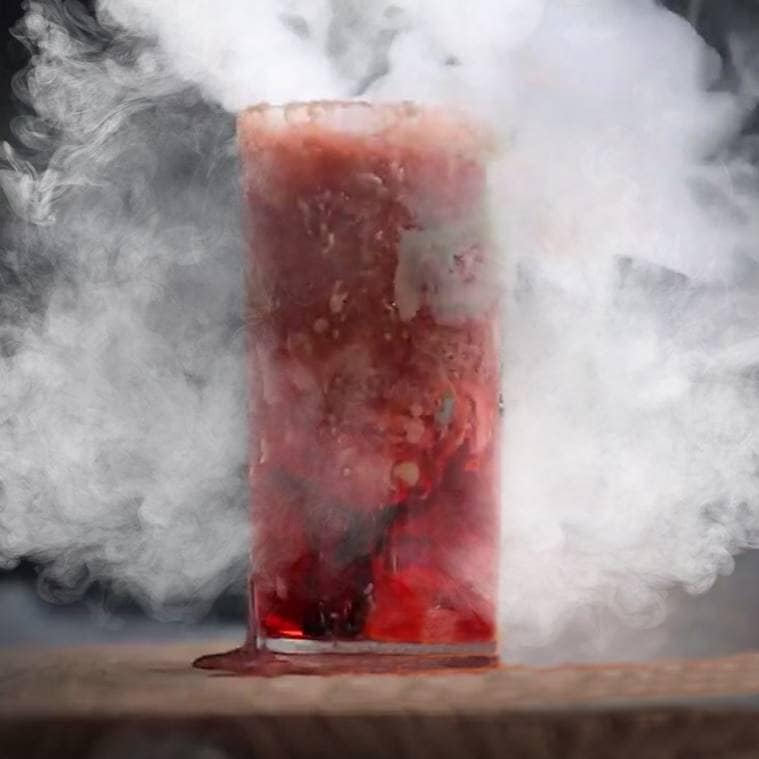 The Witch's Heart.
The Witch's Heart will truly mess with your head – and that's even before the alcohol hits your blood stream because of how it looks! One sip and then you realise that the room is blurrier than you ever remember it being.
Ingredients
60 ml – Dark rum
15 ml – Caramel syrup
5 dashes – Angostura bitter
Method
* Shake all the ingredients together and pour into the glass.
Brain Haemorrhage
(by Chef Vinay Thakur for Foreign Dhaba Bistro & Bar)
Brain haemorrhage.
Ingredients
25 ml – Green apple syrup
25ml – Grenadine
75 ml – Vodka
50 ml – Baileys
25 ml – Blue curaçao
Method
* Put ice, green apple syrup, grenadine and vodka in a shaker. Shake it well.
* Pour it in a cocktail glass.
* Add baileys slowly.
* Top up with blue curaçao.
* For smoke, add little nitrogen liquid.
* Serve it chilled.
Devil Martini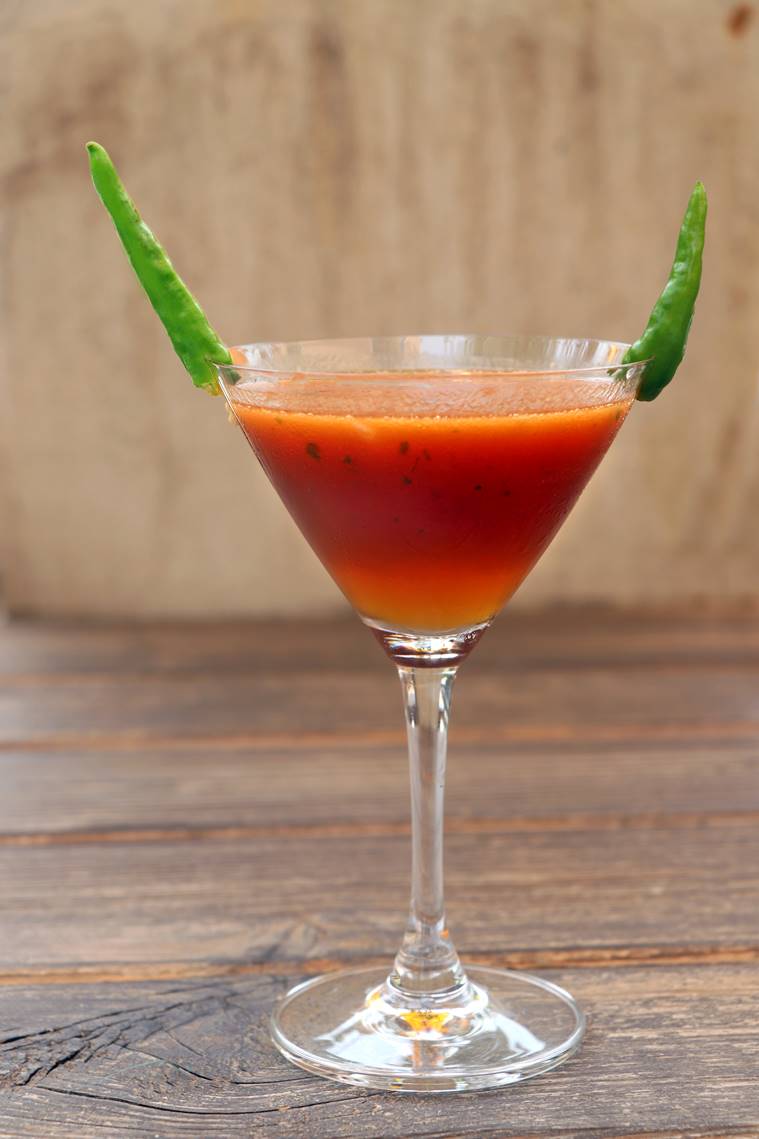 Devil Martini.
Ingredients
45 ml – Smirnoff vodka
10 to 12 drops – W sauce
4 to 5 drops – Tabasco
1 Pinch – Salt
12 to 15 leaves – Coriander
15ml each – Sugar syrup and lime juice
60ml – Tomato Juice
Method
*  Take 12-15 coriander leaves and tap in your hand.
* Put them in a cocktail shaker and add 4-5 drops of Tabasco sauce.
* Add 10 -12 drops of W Sauce and add a pinch of salt.
* Soft muddle all the ingredients in the shaker.
* Add 60 ml tomato juice, add 15 ml sugar syrup and 15 ml lemon juice.
* Add 45 ml Smirnoff vodka and fill the shaker with ice cubes.
* Shake all the ingredients in a shaker.
* Strain and pour in chilled Martini glass.
* For garnish, slit a green chili slightly and place on two opposite sides of the glass.
Sangria (Red cocktail)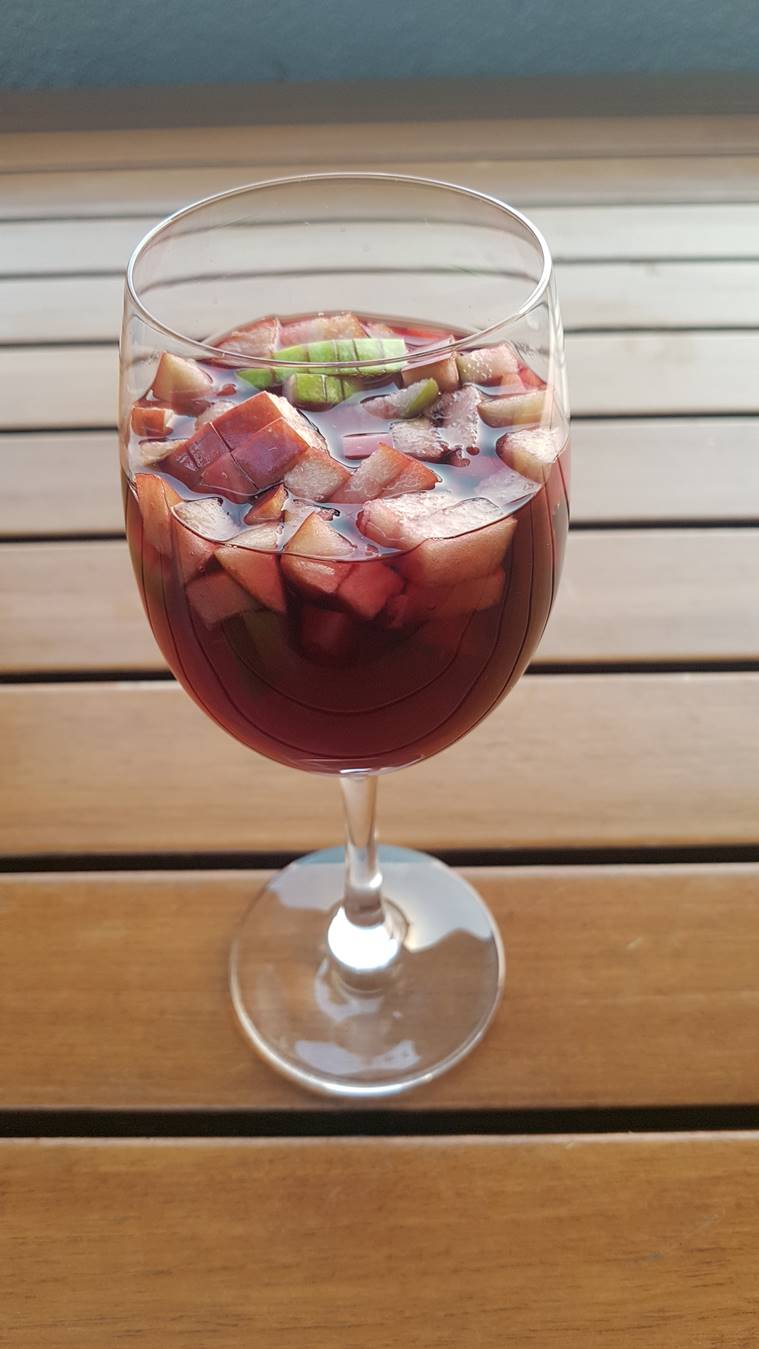 Ingredients
120ml – Red wine
15ml – Cognac
15ml – Triple Sec
Seasonal fruits, as required
Method
* Cut up the seasonal fruits into thin slices or wedges. Leave the peels on.
* Transfer the cut fruit to a pitcher.
* Uncork the red wine and pour it over the fruit.
* Measure the cognac and pour it into the pitcher as well.
* Now, measure and pour triple sec into the pitcher.
* Stir the Red Wine, Cognac, Triple Sec and fruit together.
* Cover the pitcher and refrigerate for at least 4 hours, or preferably overnight. Sangria gets softer, sweeter, and much more delicious overnight in the fridge.
* When ready to serve, top off the Sangria with sparkling water.
* Stir gently to combine.
* Taste and add more if desired. Scoop a few pieces of fruit into each glass when serving.
Witch's Spell (Blue cocktail)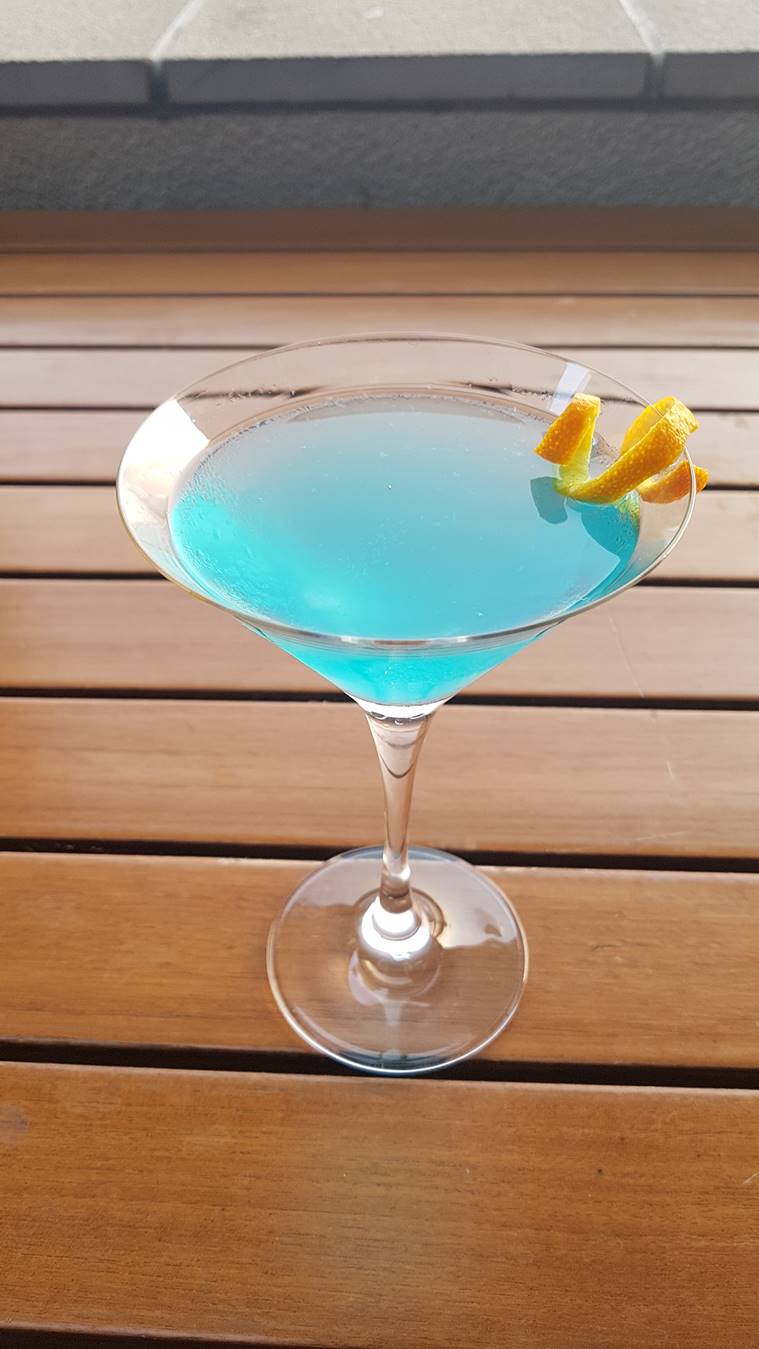 Witch's Spell (Blue cocktail).
Ingredients
45ml – Vodka
15ml – Blue curacao
5ml – Lemon juice
5ml – Orange juice
Orange spiral for garnish
Method
* Measure and pour Vodka into the cocktail shaker.
* Now, measure and pour Blue Curacao into the cocktail shaker and then pour lemon juice and orange juice into it.
* Mix them well.
* Garnish the top off the Witch's Spell glass with orange spiral.
Happy Halloween!